Geraldton City RSL Sub-Branch
"The price of liberty is eternal vigilance."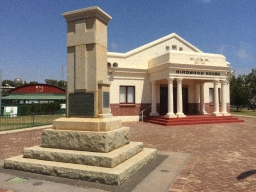 A number of wounded soldiers who returned to Geraldton after the Dardanelles Campaign (Gallipoli) gathered in Geraldton on 25 April 1917 to form a branch of the Returned Soldiers Association. The next year they organised Geraldton's first ANZAC Day service. 
Between 1917 and 1935 the RSL headquarters was in Marine Terrace. Originally known as the Soldiers' Institute, then the Esplanade Hotel and the Ocean View Guest House. This building was later demolished but planning had already begun to make available land in Chapman Road.
Funds from local business and citizens enabled the Birdwood House to be built, with the Memorial Obelisk unveiled by then Lt. Governor Sir James Mitchell, GCMG, on 1 September 1935. Two years later, Field Marshall Sir William Birdwood, who commanded the ANZAC Corps at Gallipoli and after whom the building was named, visited and was presented with a gold key and Freedom of Birdwood House.
Today, the building is headquarters of the Geraldton RSL and is used by several community groups for meetings and social activities.
You can also visit us on Facebook.
Have a look at the Birdwood Bugle for the latest news and information.
Office Hours:
Monday: 0900-1400
Thursday: 0900-1400
Bar Hours:
Thursday: 1100-1400
Friday: 1700-late
Sunday: 1200-1500